SM Blog on matters of peace, justice, and the integrity of creation.
Last post online.
Coronavirus in a Time of Climate Crisis. Fr Peter Healy sm, NZ, reflects on the new coronavirus in a time of crisis: "At our last Maori mass here in Otaki, Aotearoa New Zealand we named and blessed three kohatu mauri or life-force stones. This is a traditional Maori practice for helping people focus and ground their intentions". It ends with this prayer for an Emerging Future:
Wellspring of Compassion, Container of all life, Join us as we lean into a future coming to be through our humble efforts. Lead us into your emerging future. Empower us as we draw down our harms. Transfigure our despairs, may they become the fertile fields of a world made new. We invoke your Good Spirit to enfold everything in a bounty of blessing. Open to us the life-force of all that lives, encourage us, teach us the art of co-creation in your world. Whaea nui o te Taiao katoa, inoi mo matou. Mother of the New Creation, pray for us. Peter Healy sm [Editors note: Peter is a member of our SM Ecology Commission]
Sunday, 23 March 2020 - Environment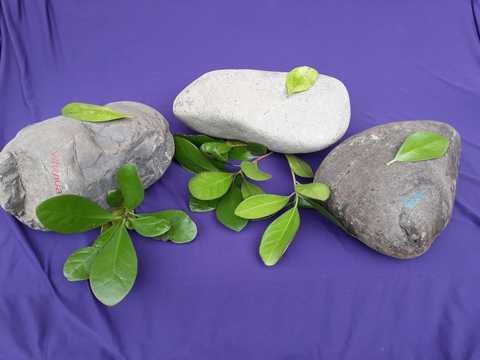 Maori life-force stones / Pierres maories de la force de vie
Face au coronavirus en ce temps de crise climatique, à partir d'un rite maori qui aide les personnes à se recueillir pour fonder leurs actions, Peter Healy sm (Nouvelle-Zélande) propose la prière suivante, "Pour un futur qui émerge":
Source de compassion, toi qui contiens toute vie, Rejoins-nous alors que nous tendons vers un futur qui naîtra de nos humbles efforts. Guide-nous dans ton futur qui émerge. Donne-nous la force de réduire les dommages que nous causons. Transfigure nos désespoirs, qu'ils deviennent les champs fertiles où germera un monde renouvelé. Nous t'invoquons, Esprit de bonté, pour que tu enveloppes toute chose d'une plénitude de bénédiction. Ouvre-nous à la force de vie qui anime tout ce qui vit, donne-nous le courage, enseigne-nous l'art de la co-création dans notre monde. Whaea nui o te Taiao katoa, inoi mo matou. Mère de la nouvelle Création, prie pour nous. Peter Healy sm, membre de la Commission mariste pour l'Ecologie
Globale katholische Klimabewegung / Global Catholic Climate Movement / Movimiento Católico Mundial Por el Clima / Mouvement catholique mondial pour le climat / Movimento cattolico mondiale per il clima.
Pope Francis urges the world's 1.2 billion Catholics and all people of good will to take urgent action against the injustice of climate change and the ecological crisis, to protect the poor and future generations. His encyclical letter Laudato Si' is a compelling call to care for our common home, Earth, building on a long history of Catholic teaching. We are building a vibrant movement to respond to Pope Francis's call. "Hear the cry of the Earth And the cry of the Poor". Visit its website here to see the worldwide extent of mobilization.

GCCM logo
Pope Francis warmly welcomed the board of directors and top leaders of the Global Catholic Climate Movement on Thursday, 27 February 2020. Click on the picture to watch a video of the encounter.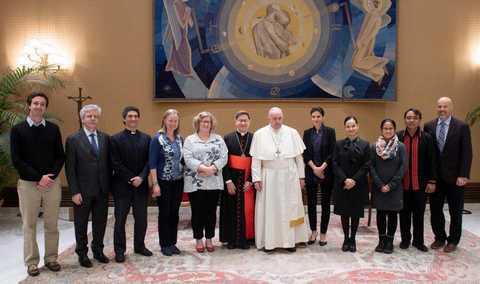 With Pope Francis and Cardinal Tagle Rome Reports News Agency
Read here a Global Catholic Climate Movement Statement on Coronavirus.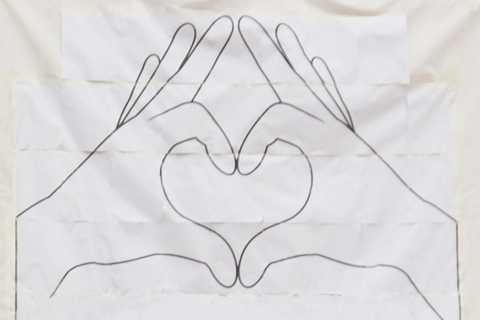 May the Lord help families discover new expressions of love in this situation Photo Miguel Discart
Laudato Si' / 5. Jubiläum / 5th anniversary / 5° Aniversario / 5ème anniversaire / 5° Anniversario.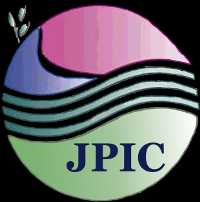 Im Jahr 2020 werden das fünfte Jubiläum von Laudato Si', die Enzyklika von Papst Franziskus über die Sorge für das gemeinsame Haus und das fünfzigste Jubiläum des Tags der Erde gefeiert. Vatikanisches Dikasterium für die ganzheitliche Entwicklung des Menschen - Ausbauplan - 2020 und darüber hinaus. Hier lesen.
The year 2020 marks the fifth anniversary of Laudato Si', Pope Francis' encyclical letter on Care for Our Common Home, and the fiftieth anniversary of the Earth Day. Vatican Dicastery for Promoting Integral Human Development - Laudato Si' Roll-out Plan - 2020 and Beyond. Read here.
En 2020 se celebra el quinto aniversario de Laudato Si', la Carta Encíclica del Papa Francisco sobre el Cuidado de la Casa Común, y el cincuentenario del Día de la Tierra. Dicasterio Vaticano para el Desarrollo Humano Integral - Plan de la puesta en marcha de Laudato Si' - A partir de 2020. Leer aquí.
L'année 2020 marque le cinquième anniversaire de Laudato Si', la lettre encyclique du Pape François sur la protection de notre maison commune, et le cinquantième anniversaire du Jour de la terre. Dicastère du Vatican pour le service du développement humain intégral - Plan de Déploiement de Laudato Si'- 2020 et au-delà. Lire ici.
L'anno 2020 segna il quinto anniversario della Laudato Si', la lettera enciclica di Papa Francesco sulla cura della casa comune, così come il cinquantenario della Giornata della Terra. Dicastero Vaticano per il Servizio dello Sviluppo Umano Integrale - Piano di realizzazione Laudato Si' - A Partire dal 2020. Leggere qui.
Pax Christi: Call for Idlib / un appel pour Idlib.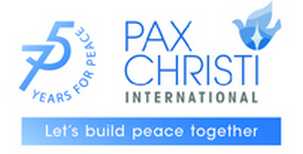 Pax Christi International website / Site de Pax Christi International
How many more innocent victims are needed to silence the guns? Pax Christi France and other French associations and movements are launching a call (in French), to protect civilian populations and refugees. The fragile truce enforced for now may be revocated at any time, and the threat of covid-19 is there present too.
Combien encore de victimes innocentes pour que les armes se taisent à Idlib? Voir ici l'appel de six associations et mouvements, à l'initiative de Pax Christi France, pour la protection des populations civiles. L'appel garde toute son urgence au moment où la trève actuelle risque à tout moment d'être rompue et où menace le covid-19.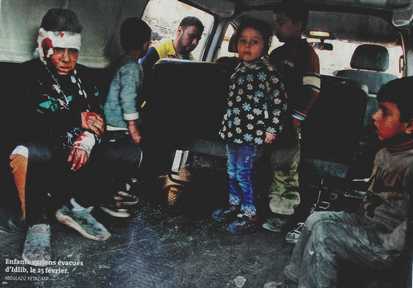 Syrian children refugees / Enfants syriens réfugiés d'Idlib Photo Le Monde
Credo: a meditation on the seven statements of Jesus from the Cross / une méditation sur les sept paroles du Christ en croix.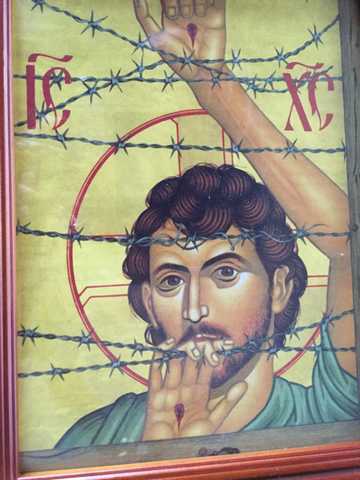 Jesus in prison / Jésus en prison
For this coming Good Friday and in a time of Coronavirus Covid-19 epidemic, these words give a new perspective, as they are intrinsically linked to one another, because all of them relate to the practice of hospitality. Read here the reflection of Dr Krish Kandiah proposed by Catherine Jones smsm.
Pour le Vendredi saint qui vient et comme s'étend l'épidémie liée au Coronavirus Covid-19, ces paroles de Jésus prennent un sens singulier en ce qu'elles sont intrinsèquement liées à la pratique de l'hospitalité. Voir ici la réflexion du Dr Krish Kandiah que propose Catherine Jones smsm.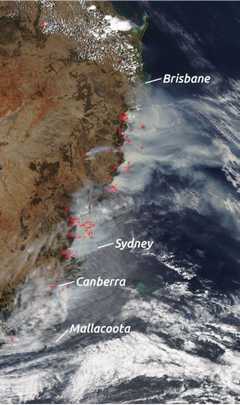 Cry of the earth, Australia in fire, "I thirst" / La terre crie, l'Australie est en feu, "J'ai soif" Photo Nasa
Blog on matters of peace, justice, and the integrity of creation.
Last articles online.
Corona virus - a Faith response. At this time when the whole world is preoccupied with the Corona Virus Covid-19, how are we, as People of Faith, called to think, pray, and act? A reflection by Ben McKenna sm. Sunday, 08 March 2020 - Environment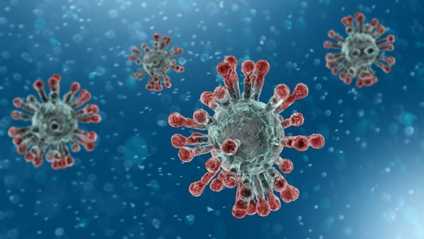 Australia down under & under attack. Fr Jim Carty sm, Australia, writes this report on the 2019-2020 extremes of fire and flood: Australia rarely makes the international News cycle - we are "down under" and out of sight. Sadly, when we do hit the headlines it is often for wrong or horrible reasons. Monday, 02 March 2020 - Ecology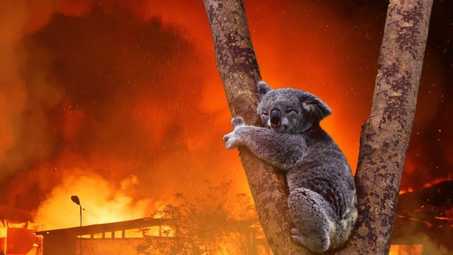 A letter from Thailand. Br Paul Murphy fms, Australia, recently sent a letter from his mission in Thailand about a visit to 'Hope's' most beautiful school at Wat (temple) Sirimonkon on the edge of the region of Samut Sakhon. Wat Siri is a beautiful, loving school (...) nestling on the side of two active temples, both Buddhist - one Thai, the other Burmese. Monday, 24 February 2020 - Migrants & refugees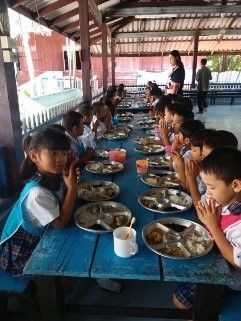 College / Colegio / Collège Pedro Chanel, Guadalajara, México.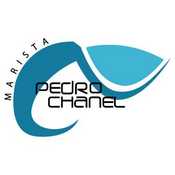 Pedro Chanel of Guadalajara, Mexico, is an Education Project Sponsored by the Marist European Education Network. Read here a presentation of this solidarity project.
Pedro Chanel de Guadalajara, México, esta un proyecto de educación patrocinado por la Red de Educación Marista Europea Leer aquí una presentación de éste proyecto de solidaridad.
Le Collège Pedro Chanel de Guadalajara, Mexique, est un projet éducatif soutenu par le réseau des établissements maristes d'éducation de la Province d'Europe. Voir ici une présentation du projet.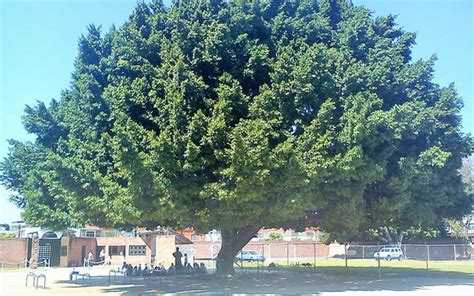 Sahagún: Invitation / Invitación / Invito.
Shared mission in Sahagún: read here an invitation to the Marist Family.
Misión compartida en Sahagún: leer aquí una invitación a la familia marista.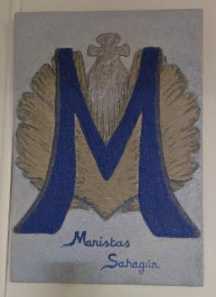 Mission partagée à Sahagún: voir ici une invitation à la famille mariste.
Missione condivisa in Sahagún: vedi qui un invito alla famiglia marista.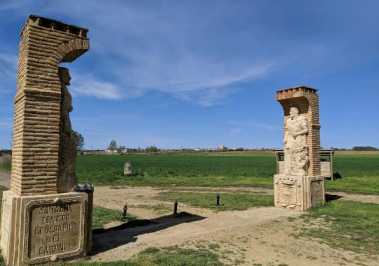 Sahagún: Compostela, 400km
ANNULATION - SPECTACLE GIONO DU 15 MARS 2020.
Elle est imposée par l'aggravation de la situation sanitaire. Voir
ici
le communiqué de Pascale Deschamps, présidente des Amis de la Neylière.
Le(s) nouveau(x) visage(s) de l'Europe à La Neylière.
De vraies surprises, de nouveaux responsables, de lourds défis : René Valette, un ami fidèle qui a été professeur à l'Université catholique de Lyon, anime une soirée dans le cadre des "Mercredis de la Neylière" le 11 mars 2020 à 18h. Conférence, repas (sur inscription), débat. Voir l'affiche
ici
.
Blog on matters of peace, justice, and the integrity of creation.
Last articles online.
Beloved Amazon. Pope Francis released his post-synodal exhortation "Querida Amazonia" - "Beloved Amazon". Here are a few gems of the four Dreams Francis offers us: a Social Dream; a Cultural Dream; an Ecological Dream; and an Ecclesial Dream. His concluding prayer is to Mary, mother of all creatures. The full text may be read here. Monday, 17 February 2020 - Ecology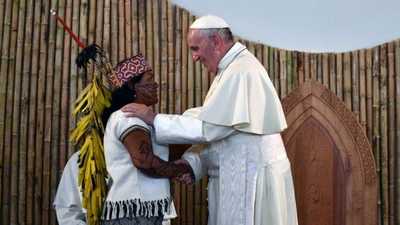 World Inter-faith Harmony Week. The United Nations (UN) on October 20, 2010 has proclaimed the first week of February of every year the "World Interfaith Harmony Week" between all religions, faiths and beliefs. Monday, 10 February 2020 - Inter-Religious Dialogue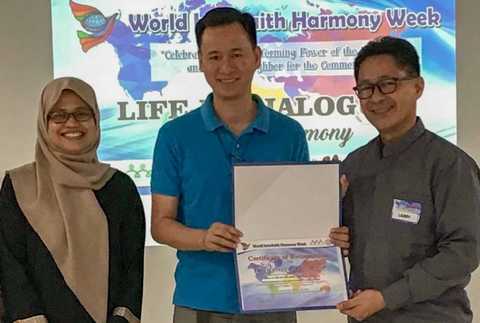 The Interfaith Harmony Week in Ranong (Thaïland)
Water: essential, fundamental, universal human right. Fr Luigi Savoldelli sm, Italian Marist in Cameroon says: "I wanted to start this, my first article, on the experience that I am living with my brother Africans and the people of Cameroon, resuming a passage of the encyclical Laudato Si' by Pope Francis. In the context of this encyclical, the agricultural project that we are sharing is part of the Marist community of Cameroon and a group of local poor families". Monday, 03 February 2020 - Ecology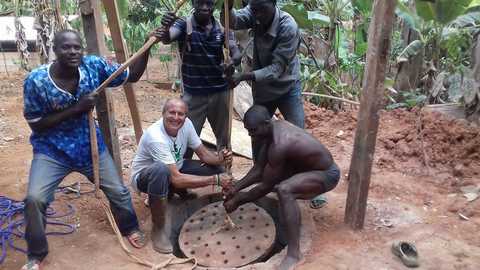 Fr Luigi Salvodelli's Well (Cameroon)
Unusual Kindness. The theme this year, 2020, for the week of Prayer for Christian Unity [18-25? January], has been "Unusual Kindness" - words of St Paul, when given this experience during his own shipwreck off Malta. We share in this blog, in a timely way, stories from Tony O'Connor sm, working with People on the Mexican-USA border, who so much need those experiences of being shown an "Unusual Kindness". Friday, 24 January 2020 - Migrants & refugees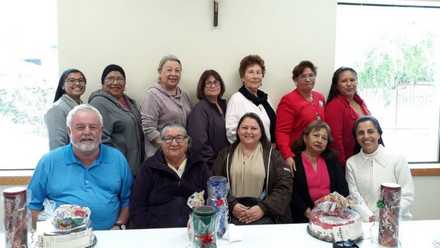 Fr Tony O'Connor sm on the Mexican-USA border
Articolo in italiano.
L'acqua: diritto umano essenziale, fondamentale e universale. Leggi qui l'articolo in italiano.
Irrigare il giardino
Pour une réponse mariste de la crise migratoire, Youssouf Stev Youm sm.
La revue des études maristes "Forum Novum" publie un article sur l'apport que l'expérience mariste peut constituer pour faire face à la crise des migrants. Elle est tirée de la thèse de fin de cycle en théologie, soutenue en 2019 à l'Université grégorienne de Rome, par Youssouf Stev Youm sm.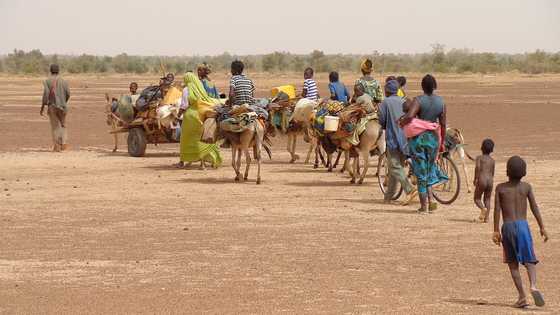 Partant d'une exégèse de la parabole du bon Samaritain (Luc, 10,29), Youssouf met en rapport la tradition mariste sur cette "Nouvelle Eglise" que J.C. Colin voulait faire advenir, et l'insistance pressante du pape François pour que les migrants deviennent l'un des soucis primordiaux de l'Eglise actuelle. Ils sont en effet parmi les blessés de la terre, et peut-être les plus déshérités.
Lire ici cette étude de huit pages (Forum Novum, Rome, n°21-1, décembre 2019).
Voir la liste des livraisons de "Forum Novum" sur le site de la maison générale des Pères et Frères maristes.
Laudato Si' Animators Formation with Global Catholic Climate Movement.
Ben McKenna sm writes: "Confreres and Friends, last year I did this Animators Program on line, free, and found it very helpful and informative, with resources and action. They are offering to train new Animators. You may like to do this program yourself, or you may know some-one you would like to encourage to do so".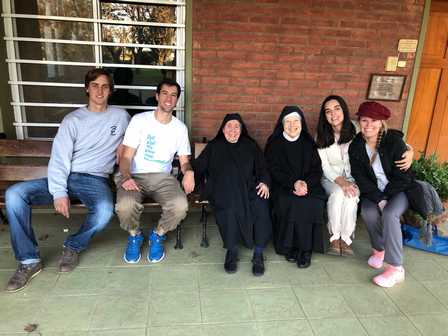 You will find
here
the link to the next class of Animators, from 23 March to 13 April 2020. The whole website of the
Global Catholic Climate Movement
, with its world network, is helpful too.
L'homme qui plantait des arbres, de Jean Giono, hymne écologique et musical.
Les Amis de la Neylière proposent, le dimanche 15 mars 2020 à 15h, un roman-concert monté par l'ensemble Cappella Forensis.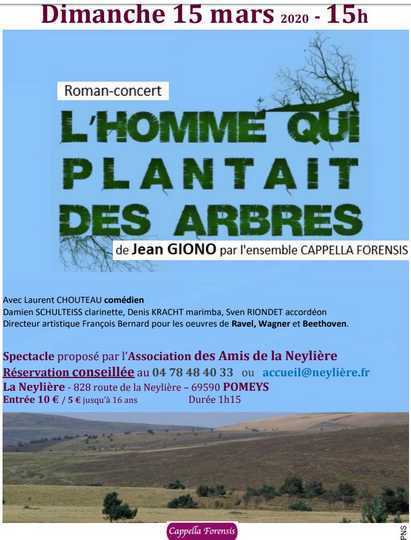 Dans une région désolée des Alpes, un berger qui vit dans la montagne plante chaque jour les graines qui donneront des arbres. Un promeneur le croise et apprend à connaître cet homme taciturne qui lui explique bientôt son rêve. Il espère, grâce aux arbres, faire revivre la terre et pense aussi que tous ceux qui ont abandonné les villages de la vallée reviendront. Des années plus tard, le promeneur revient sur les lieux. D'après le texte de Jean Giono, cet hymne écologique et musical saura séduire par le charme de son spectacle très actuel adultes, enfants et adolescents de collèges et lycées.
"Le souffle des musiques autour du texte de Giono convoque les capacités fantasmatiques intimes de chacun, et décuple l'effet du roman sur l'auditeur. Ce qui réunit le choix des compositeurs et Giono est la perfection du langage, le même souci de la mélodie/la phrase parfaite, la lame d'acier qui nous transperce corps et coeur jusqu'à l'âme."
François Bernard, directeur artistique.
Blog on matters of peace, justice, and the integrity of creation.
Last article online.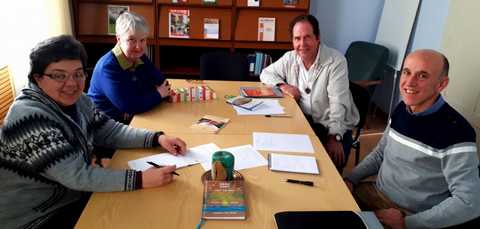 Cristina Giustozzi smsm, Anne McCabe sm, Ben McKenna sm, and Ángel García fms
Laudato Si - Marist Family 2020. On 11th January members of our Marist General Councils - Cristina Giustozzi smsm, Anne McCabe sm, Ben McKenna sm, and Ángel García fms, met together to reflect on: 1. What are our General Chapters calling us to do? 2. What is happening in our Branch of the Society? 3. What Resources are we using? 4. How can we support each other and work together? Tuesday, 14 January 2020 - Ecology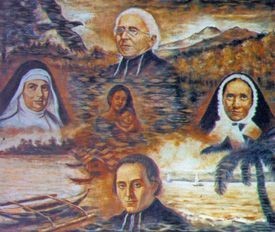 The Marist Founders, Mary and Nature
Night Rider Refugee in London Buses
Ivan Vodopivec sm writes from the Notre-Dame de France refugee centre in London: "Please find
here
a very interesting article about one of our client volunteers from the refugee centre.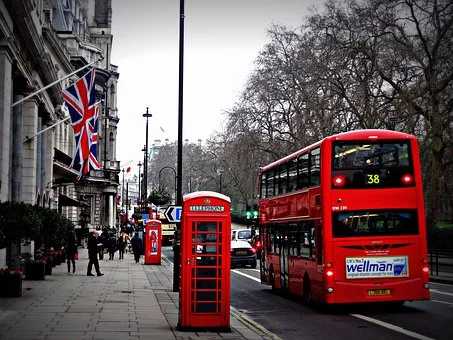 The doubledecked London bus - paulohabreuf/Pixabay
The reporter, Venezia Menzies who wrote the article said that on Sunday there were more hits on the BBC website to read her article than about Harry and Megan (Thank goodness). After 2 days there had been more than 3 million people clicking on the article to read it and produced countless offers of help for those struggling like Sunny". You can see
here
the article on the BBC website, with the copyrighted photos of Venezia Menzies.
Sahagún - Camino de Compostela.
EuroInfo 134
Read here what Michael, an American teacher in the Marist School, Atlanta, Georgia, USA, is telling about his pilgrimage to Compostela and his welcome in the Sahagún Marist community.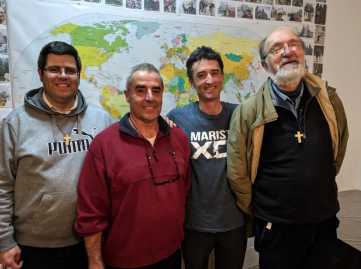 Michael with the Marist Community in Sahagún
Leer aquí lo que escribe Michael Burns, profesor de inglés en la Escuela Marista de Atlanta, Georgia, EE.UU., sobre su experiencia en la comunidad Marista de Sahagún.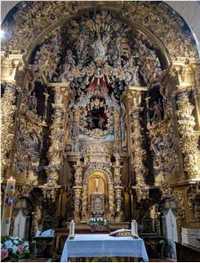 Sahagún - the Church - la Iglesia - l'église
Lire ici un extrait de ce qu'écrit Michael Burns, professeur d'anglais à l'Ecole Mariste d'Atlanta, Georgia, Etats-Unis, sur sa rencontre avec la communauté mariste de Sahagun.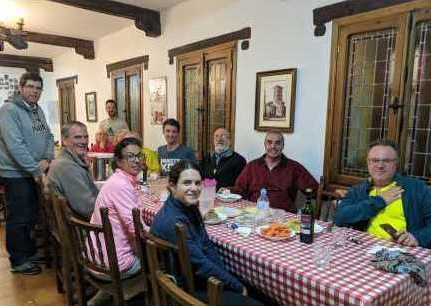 Welcome - Bienvenida - Accueil
CUS Junior School, Dublin, fund raising for Mexican School / Levée de fonds pour une école mexicaine.
News from the / Nouvelles de European Marist Education Network.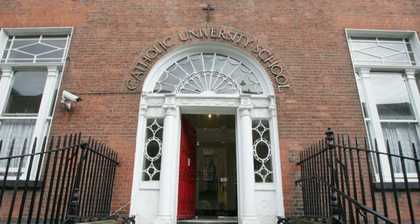 Catholic University School - Dublin
The 140 boys in CUS Junior school raised 1000 Euro for Colegio Pedro Chanel in Guadalajara, Mexico. The Marist Education network in Europe has agreed to help this fellow Marist School. New facilities are urgently needed and all schools in the Network have been asked to help. What a magnificent effort from the students in CUS Junior. Well Done!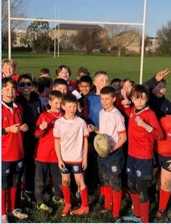 "We raised 1000 euro with a Tag Rugby event and fun dress up day" "Nous avons organisé un tournoi de tag-rugby et une journée des déguisements"
Les 140 garçons de CUS Junior ont collecté 1000 euros pour le Collège Pierre Chanel de Guadalajara, Mexique. Le réseau d'éducation mariste en Europe a accepté d'aider cette école mariste. De nouvelles installations sont nécessaires de toute urgence et toutes les écoles du réseau ont été invitées à apporter leur aide. Quel magnifique effort de la part des élèves de CUS Junior. Bien joué!
Pope Francis meets with refugees coming from Lesbos / Le Pape rencontre des réfugiés venant de Lesbos, 19/12/2019.
At the end of the 19 December's audiences, Pope Francis met with refugees that arrived recently from Lesbos, thanks to the humanitarian corridors, and he had a cross set up at the entrance of the Apostolic Palace from the Belvedere Palace, in memory of the migrants and refugees. Read the commentary from Zenit on the Zenit.org Website and the English translation of his Address by Zenit's Rosa Die Alcolea here.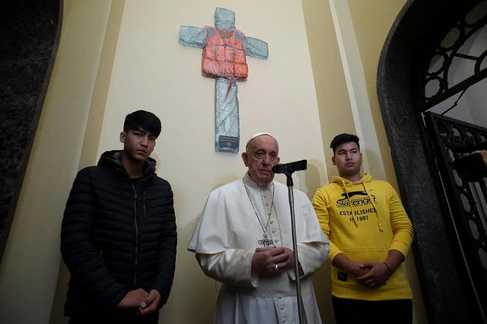 Refugees / Refugiados / Réfugiés / Rifugiati - Lesbos © Vatican Media
Encuentro del Papa con los migrantes y refugiados procedentes de Lesbos el 19 de Diciembre 2019. Leer aquí el discurso del Santo Padre Francisco, según el Boletín de la Oficina de Prensa de la Santa Sede.
Le 19 décembre 2019, le Pape a rencontré des migrants et des réfugiés récemment arrivés de Lesbos, grâce aux couloirs humanitaires mis en place en particulier par la communauté de Sant'Egidio. Lire le commentaire de l'agence de presse Zénit sur son site Zenit.org. Et ici le discours du Pape François traduit par Anne Kurian pour Zénit.
Il Papa incontra I rifugiati arrivati recentemente da Lesbo con I corridoi umanitari, Giovedì, 19 dicembre 2019. Leggere qui il discorso del Santo Padre Francesco (Libreria Editrice Vaticana).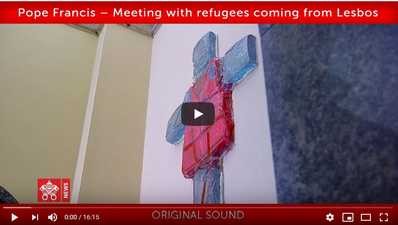 Video della riunione (italiano)
Frohe Weihnachten und ein Glückliches Neues Jahr / Merry Christmas & Happy New Year / Joyeux Noël et heureuse année nouvelle.
"Gott, fehlen mir die Worte zum Beten, so höre meine Seufzer Doch weder meine Worte noch meine Seufzer sollen mich davon abhalten dich zu lieben und dir zu dienen in dem ich andere liebe und ihnen diene." (Kairos Palestine)
"God, when I don't have the words to pray, hear my sighs. But let neither my words nor my sighs keep me from rising up to love and serve you by loving and serving others." (Kairos Palestine)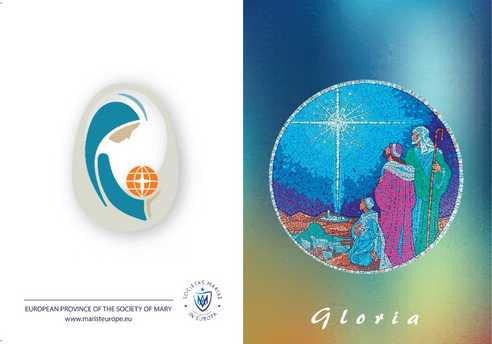 "Dieu, quand je n'ai pas de mots pour prier, entends mes soupirs. Mais que ni mes mots, ni mes soupirs ne m'empêchent de me lever pour t'aimer et te servir, en aimant et servant les autres." (Kairos Palestine)